Barcode labeling
---
Barcodes are used to convey prices to the electronic cash registers in stores and are also used to help manage inventory. Each product or variation of product where inventory is tracked needs a barcode. If a manufacturer is selling t-shirts, they will need one for each design, color and size. The manufacturer either adds the barcode graphic to their artwork while designing their packaging artwork or they order barcode labels and affix a label to each one of the packages.
The manufacturer or distributor provides the information about the product(s) to the retailer and the retailer enters all of the information about the product into their inventory management system.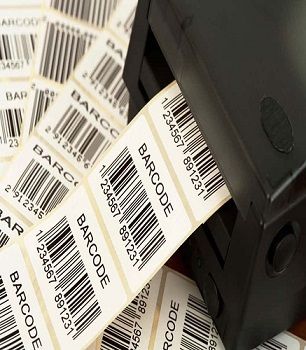 This information includes the brand name, product name, any identifiers (size, color, weight, etc.), pricing information and the UPC barcode number. Every store maintains their own database of products and barcode numbers. There is no database that contains all products everywhere.

There is nothing embedded in a UPC or EAN barcode except for the numbers that are beneath the barcode. When they enter the info into their database, the numbers are associated with the product. When a barcode scanner scans the barcode, it turns the bars back into numbers and looks for the item associated with it.
There are a number of ways that the product information is communicated with the retailers, the retailer will let the supplier know how they want the information. Sometimes they will ask for a printed sheet with a list of items, sometimes they will want an excel spreadsheet that they can upload to their database. This all depends on the number of items and their level of technical requirements.
The information supplied gets entered into the computer that connects all of their POS systems (electronic cash registers). All of this is done at store level because there is no accurate and complete database of products, and if there was, it could potentially carry billions of items. That's too much data for local stores to access, so, all stores only concern themselves with their inventory.
Sometimes retailers will ask for an additional barcode to the outside carton. They will refer to this as a Shipping Container Barcode or a GTIN-14. A customer picks up the item to be purchased and heads to the check-stand. The item is scanned and the point of sale system (cash register) requests information about the product from the database. Once purchased, the Point of Sale system tells the database to subtract the number of items purchased. The customer pays for the item and the transaction is complete.
Ready to save money with in-house on-Demand Color Label Printer technology? Best Label Printer can be your guide, our consultants are trained on the latest models and editing software. Contact us today.