Waterproof Labels
---
(Recommended for all craft breweries) Ready to ramp up your waterproof label production to match your beer production? A good choice for you may be professionally printed labels printed on rolls on a digital press. Here are some really neat options available when you choose to go with digitally printed, waterproof labels on rolls: Dynamic, Variable Artwork: You can create dynamic artwork that changes on a label-by-label basis powered by variable design software (our process is called Splash Variable Design). Here are some labels our clients printed on a Epson C6500. These waterproof Silver BOPP (Biaxially Oriented Polypropylene) labels feature a geometric background pattern that changes on each and every label. Each customer that received these labels now has a truly unique beer bottle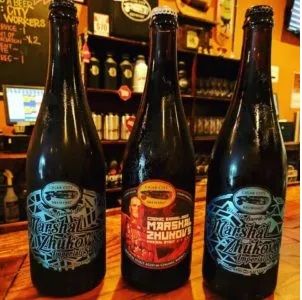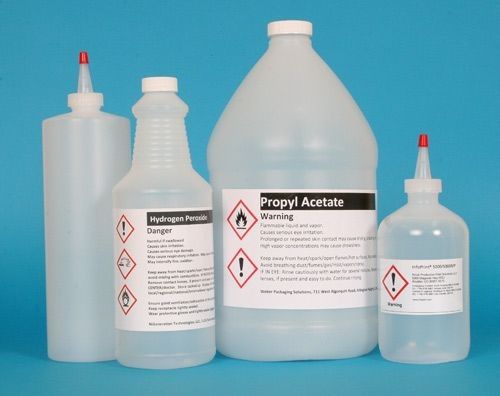 GHS Labels for Chemicals
---
To get a label to be waterproof, it would need to be printed on a synthetic material (polyester, vinyl, polypropylene). It would also have to be printed utilizing a durable printing technologies. Laser, UV, and a few pigment dye printing are the best options. If you are likely to be using inkjet or flexographic printing, you would have to laminate your label to protect it from smearing the print.
GHS stands for the Globally Harmonized System of Classification and Labeling of Chemicals and is a global system used to label chemical substances for transport. If you are shipping chemicals such as fragrances or cleaning supplies, you want to make sure your labels are GHS compliance. The labels will also need pictographs, product identifiers, signal words, hazard statements and precautionary statements about the chemicals being transported. It must also use a strong adhesive that won't wear down over a long period of time even in environments with high heat, considerable humidity, a risk of corrosion or other potential issues.
Ready to save money with in-house on-Demand Color Label Printer technology? Best Label Printer can be your guide, our consultants are trained on the latest models and editing software Contact us today .


The Epson TM-C3500 Color Label Printer

The Epson TM-C3500 label printer is a pigment-based printer that uses inkjet print head technology that uses four individual ink cartridges to print durable full color labels. If you tend to use a lot of one color (for example - your logo or corporate branding elements) Single-ink cartridges can be more economical because you won't need to replace all of the colors when one runs out.
The ColorWorks C3500 prints at speeds up to 4 inches per second and can handle label widths from 1.2 to 4.1 inches. Epson's TM-C3500 is a flexible label printer for product labels, bar-codes, and industrial labels. It has rear feed capability allows for both fan-fold labels and label rolls. The maximum print resolution is 720 dpi.