Color Label printer for GHS Labeling
On Demand color label printers delivers fast, efficient and durable GHS color-label printing to your company floor. This simple, one-step solution enhances your workflow by eliminating the need to manage pre-printed label stock. Updating regulations, material content and editing valuable safety information becomes a simple edit and print. Stop throwing away all of your money invested in obsolete out dated pre-printer labels.
New requirements to print GHS compliant labels
Now, GHS requirements and OSHA call for additional and more specific safety information. For answers to FAQs, visit the OSHA site on GHS compliant labels. We'll explain the basics in this post. There are six core parts that must be included in any hazardous chemical label:
Product Identifier Signal Word
Hazard Statements Precautionary Statements
Supplier Identification Pictograms
Image from OSHA Guide to GHS
---
The updated regulations call for nine standardized warning symbols (pictograms) to cover a range of hazards. Your label must include the appropriate symbols as determined by the hazards of the chemical you manufacture or distribute. This chart from OSHA shows you what hazards the different symbols cover: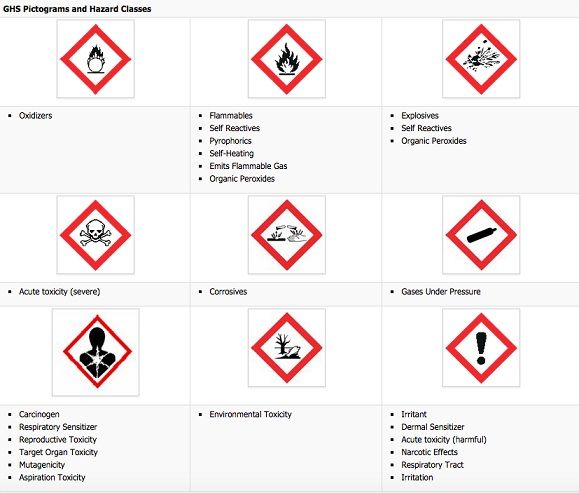 More about Best Label Printer Group
At the BLP Group, we provide consultative solutions and dedicated service throughout the label process. Our experienced team is here to help you get the perfect label for any brand of printer, We will help you find the Right Printer for your job at the Right Budget. To get a GHS compliant label solution, or for assistance with any label question, click here to fill out the form and request a consultation with one of our knowledgeable label professionals. Or,contact us today...we can help!