Why are more and more Cannabis Distributors printing labels in-house?
By opting to print cannabis product labels in house, business owners can avoid unexpected delays from print shops, which can make fulfillment unnecessarily complicated. After speaking with some local manufacturers, they've shared that differing potency test results between manufacturers and distributors can mean an additional round of correctional labels, which is also prone to being delayed by the print shop.
While traditional printing methods are extremely efficient for runs of very high label quantities, it becomes increasingly inefficient the smaller the label quantity becomes. This is why flexographic shops impose minimum order quantities. The painstaking setup procedure associated with traditional printing methods is too involved for smaller jobs. With the wide variety of different cannabis products and strains, the business owner is left in an awkward position, and often times, without labels. This is where on-demand, digital color label printing can help.
Best Label Printers For Cannabis Product Applications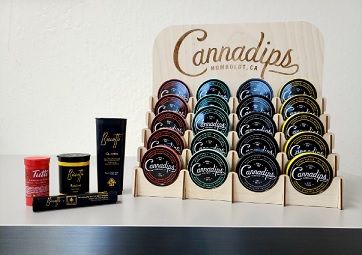 With the legalization of cannabis throughout many of the states in the U.S., competition grows. As with any other consumer product, a great label with stunning color imagery and brand captures the attention of the buyer, building on brand loyalty.
In addition to the legal requirements of cannabis labeling, your packaging has to look professional and stand out from the other recreational and medical dispensaries.
These variables in addition to the labeling basics of Identity and responsibility make it very expensive to have pre-printed pouches for every strain and weight of buds in the dispensary. The cost-effective method is to print your labels, in full color, using variable data work-flow. Simply stated…it's a lot cheaper, easier, and faster to print everything required on one label than having to deal with printing multiple labels or overprinting pre-printed labels.
Printing color labels on demand allows you to create one label with all of your product and branding information including: THC%, CBD%, Net weight in grams, Lab Name and Test # Confirmation, Date Tested, and Strand Name .

Best Label Printer Provides the Best Cannabis Label Printing Solutions
When choosing the best label printer for your Cannabis business, there are several variables that you need to look at and take into consideration. Do you have one Cannabis product or multiple products? Are all of your Cannabis product labels the same size or do you have varying sizes? Do your Cannabis product labels contain color graphics? Do you need one label printer for products and another label printer for shipping labels, or can you use the same label printer for both?
Fortunately, Best Label Printer takes the guesswork out of the selection process. The label printers we offer have been evaluated and tested to make sure they meet the requirements of your Cannabis industry regulations and requirements. Best Label Printer is an Authorized Value Added Reseller for Epson ColorWorks , VIPColor , and Zebra . Be it the Epson ColorWorks C6000 that prints up to 4"width labels, the versatile VIP Color VP660 that prints up to 8.5" label widths, or the Zebra ZT610 for printing your shipping labels, BLP has the solution to meet your needs.
Most Popular Cannabis Label Printers
Best Label Printer Streamlines The Cannabis Label Printing Process
Let's face it, label printing is a necessary expense for your Cannabis business. Your Cannabis business will not only require label printers, your Cannabis business will continue to need labels and inks. Your Cannabis business needs to stay focused on its core business and have Partners that it can rely on to help your business carry out your mission. The folks at Best Label understands this and we have designed our business model to meet those needs. Best Label Printer streamlines the label printing needs of your business by being a turnkey solution provider that offers label printers, inks, and labels. Our Company is the one source provider your business can count on for all label printing needs.

Best Label Printer Saves Your Cannabis Business Money
As an added benefit of being a BestLabelPrinter.com customer, you will automatically be enrolled in our TLC Program. The TLC Program provides discounts on Cannabis label printing inks & labels, discounts on future Cannabis label printer purchases, and savings through other exclusive offers.
Best Label Printer Cannabis Label Printing Solutions