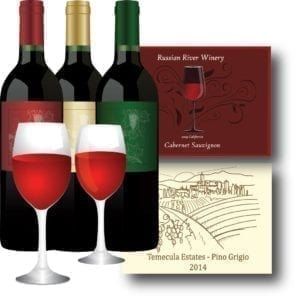 Winery labels
---
Although you can't judge a book by its cover…or a bottle of wine by the label, you can compel customers to reach for your bottle over the competitors with labels that set you apart from the rest.
Best Label Printers has a variety of label printing solutions perfect for small and medium batch wineries including high-speed digital printers, estate inkjet papers and applicators.
According to Wine Business Monthly, "For labeling runs under 10,000 cases, digital is the answer, since printer setup and last minute changes are cheaper with digital." Bringing label production in-house with printers such as the Epson ColorWorks C7500 Series or the Epson ColorWorks C3500 Color Label Printer gives ultimate control over wine label printing. Making a design or text change is immediate. Digital pre-press take seconds and you are able to print one label or thousands when you need them without complicated or expensive pre-press. In-house, on-demand digital printing opens up your ability to create private label wines for corporate, special events and weddings too.
Specialty Labels
Whether you have a Tea Shop or package and sell Wholesale, Best Label Printer has a number of solutions for you.
According to the Institute for Color Research, their study reveals that people make a subconscious judgment about a product within 90 seconds of initial viewing and between 62% and 90% of that assessment is based on color alone.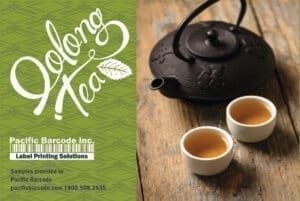 You've spent time and money developing a great product, designing your artwork and the printing of your labels should be top-notch. When you purchase a label printer from Best Label Printer, you have complete creative control! Tea Label Printers, Labels, Ink, Software, and Support…you'll be printing your labels in minutes!
Ready to save money with in-house on-Demand Color Label Printer technology? Best Label Printer can be your guide, our consultants are trained on the latest models and editing software Contact us today .

Craft Beverage Label Printer Technology
Craft Beverage Labels Beer, Wine, Coffee, Spirits, Cider, Home Brews; whatever you bottle. Craft Beverage Labels Craft beverage markets includes beer, wine, spirits, cider, mead, kombucha, and coffee. Many consumers make buying decisions based on packaging. Giving your product a strong shelf presence in this extremely competitive environment is key to your success. We offer state of the art print and finishing capabilities and extensive experience with beverage labeling. We can assist in branding, test orders and even signage and large format graphics to complete your marketing efforts. We assist you from start to finish to compete in this market. Let us help you achieve the a strong shelf presence.
As of the end of 2015, the U.S. was home to 4269 craft beer breweries taking the number well over the historic high of 4,131 in 187 With the thousands and thousands of different beer choices, it's important to have a beer bottle or beer growler label that attracts the attention of the buyer.
Best Label Printer can work with you every step of the way. Whether you want to have Best Label Printer to print your labels or bring Label Printing in-house giving you a highly effective way of printing labels on-demand, Best Label Printer has a solution.
By bringing your label printing in-house, you can print these labels in a variety of sizes in run lengths as low as one or in the thousands. Fast…and when you need them.
Best Label Printer's Pigment Based Inkjet solutions will give you a very inexpensive label solution that will not discolor, fade or deteriorate if the contents of the bottle get on the label.
This keeps your branding intact and in front of our customer making the experience not only tasty and thirst-quenching but visually compelling. This branding is so very important since you want to make sure that you are the customer's first choice.